Frequently asked questions.


Twelvea are experts in the BWoF process and are happy to answer any questions you may have. 
Here we answer the most common BWoF FAQs.
What is a compliance schedule?
A compliance schedule lists the specified systems in a building, and the procedures required to keep them in good working order. This includes performance standards for inspection, testing, maintenance and reporting. Once final consent has been signed off, the compliance schedule is issued with a Code of Compliance Certificate (CCC), which confirms that all building work complies with the Building Code and the building consent.
Why do I need a compliance schedule check?
It's the building owner's responsibility to ensure the compliance schedule is correct. However, mistakes can happen when the compliance schedule is processed, so having an independent expert like Twelvea complete a compliance schedule check at the final CCC stage can save you time and money. See what is included in our review here.
What is a specified system?
Specified systems contribute to the proper functioning and safety of a building and include features such as lifts, fire alarms, smoke curtains and emergency lights. They need ongoing inspection and maintenance to ensure they function as required. If they fail to operate properly, they have the potential to affect health or life safety. Specified systems are sometimes referred to as features or specified features.
What if some specified systems are not consented?

It's important to note that adding or removing any specified system must be done with a consent. Your compliance schedule lists how many of each specified system you have, e.g. 10 air conditioning units, 3 automatic doors etc. If you add or remove any, the prescribed document that states what is in the building no longer aligns. It's the building owner's responsibility to ensure that they do align and that the systems comply and perform as expected. Failing to do so could leave you with a building that has no BWoF, insurance issues and is difficult to sell. The process involved to get your building back on track can be long, expensive and very stressful. This is why we always recommend applying for consent in advance. Please get in touch if you have any questions or need help.
What are owner's checks?
Owner's checks are visual inspections of passive features such as signs, exits, fire separations and smoke separations. These must be carried out in frequencies as required by the Compliance Schedule. Owner's checks must be properly documented and be available to immediately present to an auditor. Twelvea can help you with these and can hold the checks electronically to be accessed 24/7.
What happens if I can't get a Form 12A?
A Form 12A certificate is issued by an IQP to confirm that a specified system has been tested, inspected and maintained as required by the compliance schedule over the past 12 months. Your IQP may be unable to issue a certificate if, for example, they took over from another IQP part way through the year, the owner's checks haven't been completed or maintenance is needed which can't be completed before the deadline. Please get in touch if you have any questions or need help.
What is a Report in Lieu?
A Report in Lieu (RIL) is a statement made to Council at the time of BWoF issuance to explain why the inspections, maintenance and reporting of a specified system haven't been carried out as required. Some Councils won't allow an RIL to be signed by the IQP. They require the owner, or in some cases the owner's agent, to sign to ensure that the person responsible is aware that their obligations under the Building Act have not been met. Note that not all Councils will accept an RIL, as they are not a prescribed form in the Building Act.
Having an RIL issued will raise a red flag for the annual renewal and may mean that Council will not accept the BWoF at all.
What is a fire report?
A fire report is created by a certified Fire Engineer. It analyses the building's requirements for fire and passive safety and is then peer reviewed by the NZ Fire Service. The latest fire report lodged to council is the one the building should match.
Does my building need an approved evacuation scheme?
An evacuation procedure describes how occupants will escape safely if there is a fire or if a fire alarm sounds. Most buildings must have an evacuation procedure in place. However, if a building is a relevant building, it must have an evacuation scheme approved by the Fire Service. You can find further information and assistance here.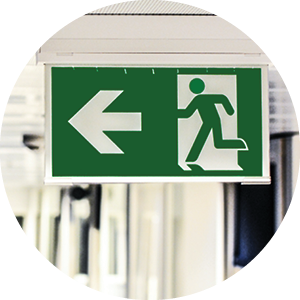 What are decommissioned systems?

They are specified systems in your building that have been decommissioned. Previously Council allowed systems to be decommissioned if it could be demonstrated that the system was not required in order to comply with any relevant standards or building codes. Council have now made a decision to no longer accept this. This means any specified system in your building must be on the compliance schedule and serviced, checked and maintained. If you have an existing decommissioned system, you must get it back in working order or remove the system through a building consent.


Have a question that's not covered in our BWoF FAQs? Please contact us!